Store and manage all your card data with maximum flexibility. Gr4vy's Cloud Vault allows you to store and manage your card data as you want, ensuring PSP independency and data portability while relying on a robust and scalable cloud infrastructure.
All your tokens in one place
Simplify card data storage
Gr4vy's centralized vault makes it easy to store, pull, update, and distribute all your card data, simplifying compliance while ensuring your are always on top of local data regulations.
Cards

Store original raw card data, billing and shipping details linking them to a vaulted card

Network Tokens

Provision network tokens and their cryptograms

Card forwarding

Use Gr4vy's API to forward stored card details with third-party vendors

PSP Tokens

Provision PSP tokens and distribute card data for third-party processing

Storage

Scalable storage capacity that grow as you need

Account updater

Ensure your data is always up-to-date and never miss a payment
Explore the power of the cloud
Gr4vy's PCI DSS Level 1 certified vault runs on 
Google Cloud infrastructure, offering 99,99% availability, allowing you to manage and scale your data in a secure environment.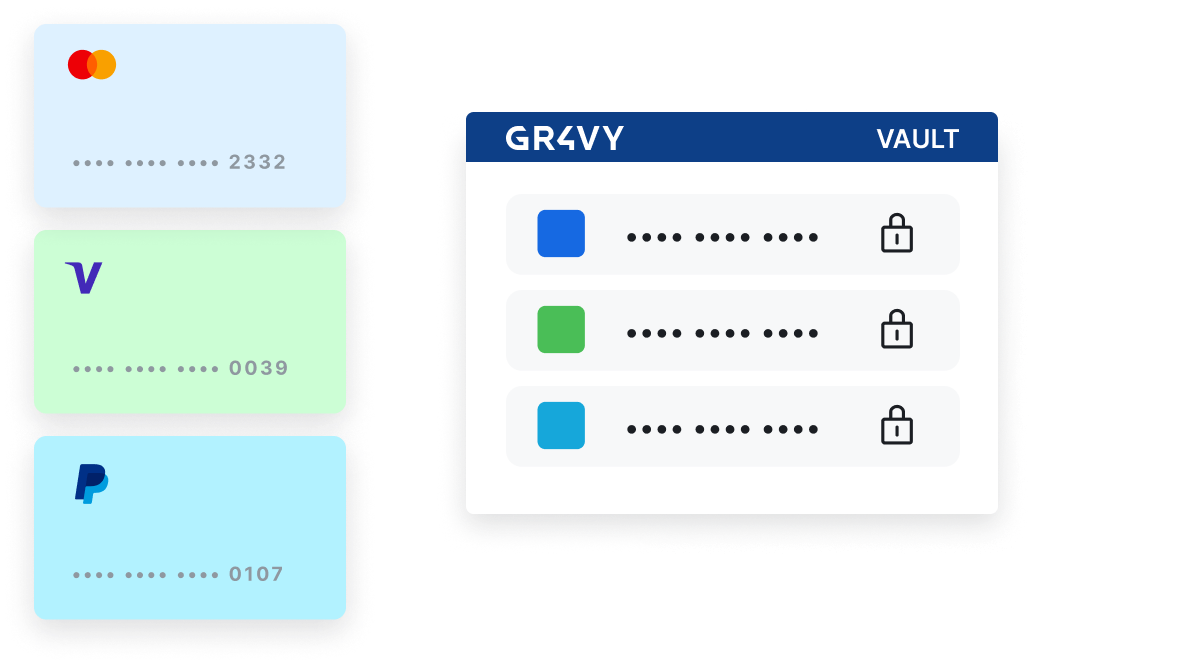 Streamline migration and data portability
It's your data, and you can manage it as you wish.
Import
Import your existing card data and PSP tokens from any PSP into our vault.
Export
Get the data out as a PSP token, Network Token, Card Push or by simply exporting your data into a new service.
Maximise interoperability
Ensure full PSP independence and scale from one provider to many or even migrate operations without having to re-tokenize all your vaulted cards.
Tokenize cards independently and store multiple tokens per customer. With Gr4vy you can reuse tokens for recurring payments across different processors, ensuring maximum flexibility.
Want more information about vault?
PAYMENTS REIMAGINED
Ready to explore full payment orchestration?
Gr4vy's modular integration allow you to use Cloud Vault as a standalone solution or build up to full orchestration, making it easy for you to decide how to charge your customers. With full orchestration, you can enable one-click checkout experiences, use network tokens and tokenize all APMs that support recurring payments, such as wallets and bank mandates.
Explore some of our other solutions.
"I'm excited about our partnership with Gr4vy and what it will bring to our merchants' customer payments experiences."
Paul Monnington / Managing Director, WPay
"All our self-built services run in the cloud, so being able to run Gr4vy in the same region as our services is powerful."
Nick Aliwell / Director of Product, Eleven Sports
"Gr4vy gives us the ability to easily scale, handle global payment complexities, and have support with PCI compliance and security elements."
Ger Lawlor / Product Manager, Aró Digital Strategy